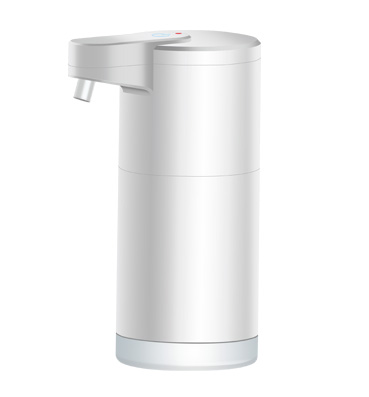 Ultmost Technology Group
― E-mail:
ut@ultmost.com.cn
― Direct lines: 86-755-84880719 (tel) ― 86-755-84820817 (fax)
Auto Gel Hand Sanitizer Dispenser(330ml)
rechargeable
HE-405C
― Suitable for alcohol gel hand sanitizer.(also for alcohol disinfectant water and Hypochlorous acid water, but without atomization effect)
― Responsive,stable, & precisely controlled.
― Multi-stage spray volume adjustment, dosage controllable.
― DC5V/1A & rechargeable.
― Intelligent power saving and sleep mode design extend battery life.
― Low battery reminder design, reminding to recharge the battery.
― No need to install, flexible placement.
* Special introduction to "Sleep Mode, one touch to wake-up":

In order to save battery power, the device will automatically enter into the sleep mode and remember the last settings after being idle for 24 hours without sensing a use. If you need to restart the device,just touch the power button to wake it up. (Note: This function only works under battery-powered status. This feature can save power consumption when the device is not in use for a long period of time while away from home or when the office is on weekend & long holidays.)
/ Auto Gel Hand Sanitizer Dispenser > HE-405C