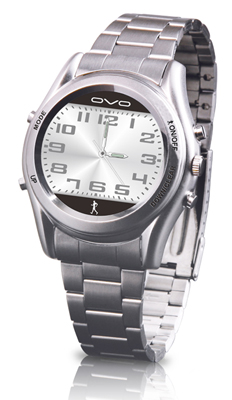 Ultmost Technology Group
― E-mail:
ut@ultmost.com.cn
― Direct lines: 86-755-84880719 (tel) ― 86-755-84820817 (fax)
The World First Dress Watch Pedometer
/ P
edometer
> WA-341/ WA-344

WA-341 / WA-344
― Luminous hands analog watch 
― G sensor pedometer
    - LCD tells steps, distance, time walked, and calories burned numbers
    - seven days auto-record
― Battery: CR2032 x 1
― Patented 
Feel trouble to carry a pedometer around or just don't want others to know you 
are using one? Try one of these dress watches. They keep track of  your walking 
steps, distance, calories burned and more behind their watch faces.