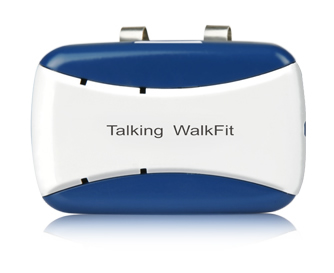 Ultmost Technology Group
― E-mail:
ut@ultmost.com.cn
― Direct lines: 86-755-84880719 (tel) ― 86-755-84820817 (fax)
WalkFit is an accurate, fashionable pedometer. With built-in gravity sensor, you can carry it in your pocket/purse/backpack, hang it around your wrist, or clip it onto your waistband.
Walking 10,000 steps per day for health and weight loss is advised by doctors. The target can possibly be achieved by your daily activity. If not, you can add several sustained walks to supplement the rest. WalkFit is designed exactly for this kind of fitness regime. You can wear it all day long. It will monitor and keep track of your moving. And more, thanks for its intelligence, it will count calories, distance from steps generated by walking and eliminating those from false movements such as sitting up and down.

Talking WalkFit

 


Get fit with WalkFit - a new era pedometer  with G sensor

Talking WalkFit (3D)

 HE-298
― SEVEN DAYS AUTO-RECORD FUNCTION 
    The unit will auto-record the actual steps, distance, calories burned and elapsed time from your
    walking and jogging for seven consecutive days.
―  AUTO-CLEAR FUNCTION 
    Under normal condition, daily record will clear at 00:00am automatically and the total number of 
    actual steps, distance, calories burned and elapsed time of the day will be recorded in seven days records. 
― KEY LOCK FUNCTION 
   If no key is operated for 30 seconds, the keys will be locked automatically; if you do not walk or jog up 
   to 30 seconds, the unit enters sleep status and LCD turns off; when you walk again, LCD turns on automatically. 
   When the keys are locked, hold  ゞ for 2 seconds to unlock.
Designed with Voice Reading assistance to help you acquiring the data effortlessly while you are on the move 
or in the dark.
― Battery:CR2032 
― 62 x 40 x 20mm